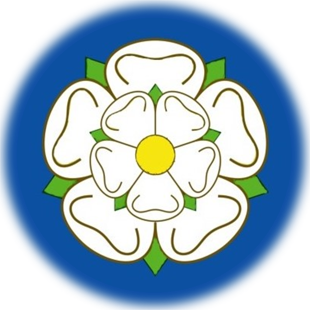 >
Yorkshire
A great place to start!
A big Yorkshire welcome to our expanding guide to the most scenically diverse region of the UK with Britain's favourite city at its heart.

Scroll down this page to get up to date with what is going on in Yorkshire and some of the newest additions to Yorkshire.guide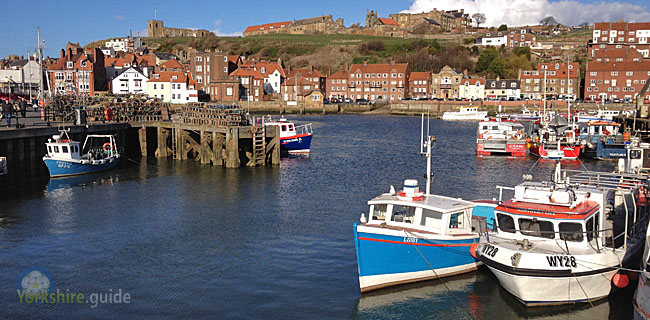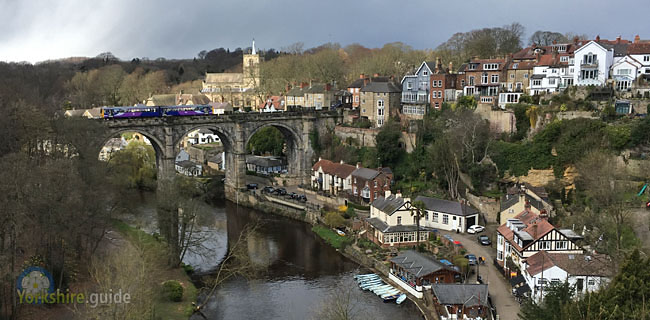 If you're new to Yorkshire see what it has to offer on our Introduction page.

---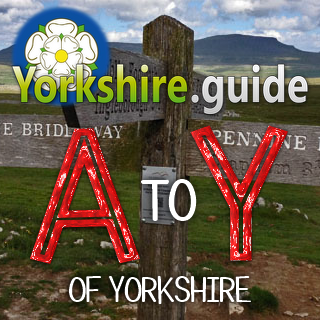 Our A to Y Gazetteer brings information about towns and cities and pinpoints villages on our unique Yorkshire map.

---

The Home button links you to the many other sections of Yorkshire.guide

---

And below, some of our newest items about Yorkshire issues and events in more detail .......


---
Reopening begins for some Yorkshire attractions
Plan your visits with our Places to Go section July continues to see the gradual reopening of some of Yorkshire's attractions which have been closed as part of efforts to prevent the spread of Coronavirus (Covid-19).

A major change will come from July 4 as accommodation, pubs, restaurants and cafes are allowed to reopen.

Clicking on the links within the guide to the attraction operator's own website may be able to provide specific reopening information. However, Indications in the guide that, for instance, an attraction is open from April will generally relate to what normally happens each year rather than the present situation and it is best to check the reopening schedule directly with the attraction at this time.

Travelling to the more popular parts of the region at the busiest times does not make social distancing easy, so it might be worthwhile considering some of Yorkshire's more remote locations and quieter times if you feel the need to head out from home.

The Government continues to give the clear advice to the general public on its website "Do not leave home if you or anyone in your household has symptoms" of Coronavirus (Covid 19).

While you are waiting for everything to reopen, why not plan ahead, take a look at Places to go or make up your own virtual tour of Yorkshire through our A to Y Gazetteer.

If you need the latest official UK government information on Coronavirus (Covid-19), including a link to NHS advice, it can be found at this

GOV.UK - Coronavirus webpage.


Racing behind closed doors at Pontefract
Pontefract Races will be held behind closed doors There's racing behind the closed doors of Pontefract Racecourse in West Yorkshire this Tuesday afternoon (July 7).

There are 9 races on the card for the races which can be viewed on TV and online. The first race is at 12.15pm and the last at 4.30pm.



Pontefract



New rail timetables but only a few improvements
Further easing of lockdown restrictions led to Northern, now run by the UK government, and other rail operators publishing a new set of timetables for their routes from July 6. But the reality is that they include only a few tweaks to previous timetables and even now some routes are not served any better than at the earliest stages of lockdown in March.

Whitby does see an improvement in the number of journeys a day, from the previous two journeys a to four, but the earliest journeys each way between Middlesbrough and Whitby are not calling at all stations along the Eskdale line.

Two Northern peak-time through trains from Leeds via Wakefield Kirkgate and Sheffield to Nottingham are back in the timetable, avoiding the need to choose one of the other routes between Leeds and Sheffield and changing in the South Yorkshire city.

Trains on the direct Northern route from York via Pontefract to Sheffield have not returned, but two Cross Country trains running through York via Doncaster to Sheffield and on to Birmingham are back. Most Cross Country trains take a circuitous route via Leeds.

Northern trains stopped running between Knottingley and Goole due to flooding earlier in the year and these also have not been restored.

The previously hourly service between Huddersfield, Mirfield, Wakefield Kirkgate and Castleford remains at just three trains a day and journey times for these continue to be hidden in a split between two different timetables with no times shown for Normanton. It continues to mean that Mirfield to Wakefield which should be a simple 16-minute journey, has to take 1 hour 6 minutes or 1 hour 35 minutes via Leeds between the three peak-hour trains. The few Grand Central trains from Bradford Interchange to London, which also include the route between Mirfield and Wakefield, will not run until July 26.

LNER has restored regular journeys to Harrogate, a one-a-day service to Skipton and increased journeys to Bradford Forster Square to two a day. The services to London King's Cross are all via Leeds, where the trains reverse.

Face coverings remain must-have attire when making essential journeys by train, bus or any other public transport.

Check where trains are running on our interactive Rail map of Yorkshire.



Rail map



Finding space at the seaside
Saltburn-by-the-Sea joined Whitby in gaining a 2018-2019 Blue Flag award. With lockdown restrictions eased and accommodation reopen, Yorkshire offers great places to enjoy some seaside fresh air this summer.

With some vast stretches of beaches and seaside villages, there is plenty of space to be enjoyed away from the main town centres.

Whitby also has an international Blue Flag Yorkshire continued to have a huge number of Seaside Awards when the latest winning beaches were announced in 2019 and two beaches, at Saltburn-by-the-Sea and Whitby, also met the stringent criteria of the international Blue Flag Award.

Pick your own vast beach or quieter resort from those all along the Yorkshire coast, featured on our Seaside page.



Seaside
Yorkshire.guide/seaside
Roadworks until late August at motorway intersection
Junction 29 of the M62 where it meets the M1 at Lofthouse Major roadworks at a busy intersection of two motorways in West Yorkshire are due to continue for eight weeks from June 26 until late August.

Further details on our Road travel page


Discover Yorkshire castles
Pickering Castle in North Yorkshire has now reopened English Heritage reopened many of their sites on July 4, including some of Yorkshire's finest castles. Middleham Castle and Pickering Castle are among those now open. Others, including Richmond Castle and Conisbrough Castle, will reopen from August.

You can find out more for a future visit and see which castle sites have open access through our recently updated Castles page. We are currently also showing a selection of castles on our Pictures page.

Visitors will see changes in admission policy at pay-to-enter sites as they reopen. Visitor numbers will be limited and timed tickets will need to be booked in advance. This will also apply to English Heritage members entitled to free tickets.



Castles


Yorkshire.guide/castles


Enhanced tourist information on our 2020 map updates
Our 2020 rolling programme of updates for our unique Yorkshire.guide Map of Yorkshire is now well under way and it includes even more details than ever before.

Camping and caravan sites are among the accommodation allowed to reopen from July 4 and are now shown with other tourist information on our updated maps.



Map
Yorkshire.guide/map
Yorkshire has big part to play in 2021 Rugby League World Cup
Huddersfield, birthplace of Rugby League Elland Road, Leeds, will hold a semi-final KCOM Stadium, Hull will hold a quarter-final Riverside Stadium, Middlesbrough Headingley Stadium, Leeds Yorkshire stadiums will play a big part in the Rugby League World Cup in 2021. There will be games in Doncaster, Huddersfield, Hull, Leeds, Middlesbrough, Sheffield and York.

On Wednesday (June 10), host towns and cities for teams from 21 nations were also announced with Yorkshire again playing a big part.

The Samoa men's team will be based in Doncaster, the Fiji men's team will be in Hull and the Cook Islands men's team in Middlesbrough or maybe one of its Tees Valley neighbouring boroughs. York gets the New Zealand men's team as well as Australia, New Zealand, France and Cook Islands women's teams. Sheffield hosts the Greece men's team and France, Wales, Scotland and USA wheelchair teams. Leeds also hosts a list of teams, including both Jamaica and Ireland men's teams and England, Papua New Guinea, Brazil and Canada women's teams. Huddersfield, the birthplace of Rugby League, although hosting a match, is not named as a team base.

More about the match venues at Rugby League World Cup 2021.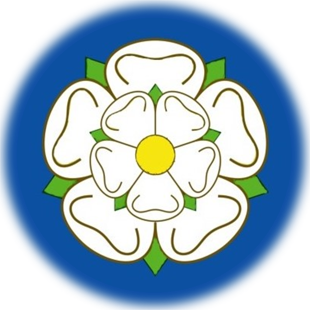 Do you know your Yorkshire?

Can you name the seven cities of Yorkshire?
Which were the first three to be recognised as cities?
For the answers see: Seven cities
---

How about the seven largest towns and cities of Yorkshire?
For the answer see: Largest towns and cities
---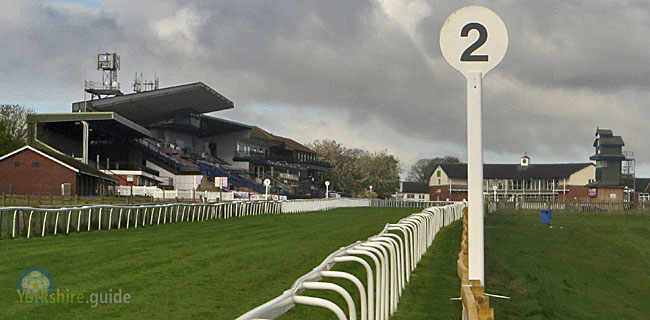 Where are the nine horse racecourses of Yorkshire?
Which of them stages the world's oldest classic race?
For the answers see: Racecourses
---

Which were the five highest-placed Yorkshire football teams in the 2018-19 season? End of season promotions and relegations saw which four Yorkshire teams moving in or out of the Championship?
To find the answers see: Yorkshire football
---

If a board game was to feature Yorkshire's four busiest railway stations, which would they be?
For the answer see: Railway stations
---

How many of Yorkshire's five highest mountains can you name?
For the answer see: Highest mountains
---

Where were the eight start and finish locations for the 2019 Tour de Yorkshire cycle races?
For the answer see: Tour de Yorkshire 2019
---

Based on district local authorities, where are the seven largest populations in Yorkshire?
For the answer see: Populations

On Ilkla Moor Baht 'at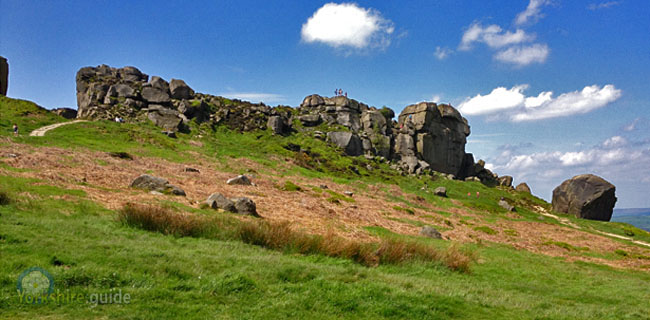 If you're from Yorkshire you will probably recognise our background picture as the Cow and Calf Rocks on Ilkley Moor, famous as the location of the Yorkshire dialect anthem "On Ilkla Moor Baht 'at". More on Ilkley.


Recent Yorkshire news topics
Rugby League museum plan: Another national museum for Yorkshire

---
Moorland fire: Fire risk reminder after big blaze at Peak District beauty spot

---
Nightingale Hospital: Harrogate Convention Centre conversion for Covid-19 patients

---
Doncaster airport link: Airport rail connection plan submitted to government

---
Northern Trains takeover: Northern now run by UK government

---
Storm Dennis: A menace, but Yorkshire escapes flooding repeat

---
HS2 green signal: First phase for HS2 but North now to consider 'integrated plan'.

---
Storm Ciara: High winds, flooding and overflowing reservoirs.

---
Northern lose rail franchise: Government to take over services from March.

---
New airport plan: Leeds Bradford Airport has plan for new terminal building in place of earlier proposals.

---
Archived:
Pacers in 2020: Northern continues to operate bus-based trains of the 1980s beyond their expiry date.

---
News archive 2019: News from 2019.

---
News archive 2018: News from 2018.

---
News archive 2017: News from 2017.

---
Also in Yorkshire.guide
Home
Travel
Places to visit
Webcam
Map
Film locations
---