Yorkshire Dales National Park
One of the three National Parks of Yorkshire

The Yorkshire Dales National Park offers Yorkshire's mountain peaks, beautiful river valleys, attractive villages with country inns, ruined
abbeys
and some of the finest limestone scenery in the UK with limestone pavements, dry valleys, potholes and underground caves.
The National Park was created in 1954. Since August 2016 it has been extended to cover a total of 841 square miles (2,179 square kilometers), extending it from the historic boundaries of Yorkshire into Lancashire and further areas of Cumbria. It previously covered 684 square miles (1,773 square kilometers).
The area offers excellent hiking and walking territory with paths and trails for people of all abilities. It is a centre for potholing and caving, has mountain bike routes and offers plenty of opportunity to study its rich wildlife.
The Pennine Way long-distance walk crosses the area, as does the Pennine Bridleway.
Within the National Park is Yorkshire's biggest walking challenge, The Three Peaks, a 25-mile hike tackling three of Yorkshire's
highest mountains
, Pen-y-Ghent at 694m (2,277ft), Ingleborough at 723m (2,372ft) and Whernside at 736m (2,415ft). Each of the mountains offers brilliant views on a clear day and can be enjoyed individually by those not seeking the long-distance challenge.
Farm fields with barns and divided by dry stone walls are characteristic of the area. Sheep farming is predominant in the Yorkshire Dales. Another major industry within the national park is quarrying.
Around 98% of the land of the National Park is privately owned.
Towns and villages
Places within or on the edge of the park include:
Airton, Appersett, Appletreewick, Arncliffe, Askrigg, Austwick, Aysgarth, Bolton Abbey, Buckden, Burnsall, Carperby, Clapham, Conistone, Cotterdale, Cracoe, Dent, East Witton, Embsay, Gawthrop, Grassington, Grinton, Gunnerside, Hawes, Helwith Bridge, Hetton, Horton in Ribblesdale, Hubberholme, Hudswell, Keld, Kettlewell, Kilnsey, Kirkby Malham, Langcliffe, Langthwaite, Litton, Long Preston, Malham, Marske, Masongill, Muker, Reeth, Rylstone, Sedbergh, Stainforth, Starbotton, Thoralby, Thornton in Lonsdale, Threshfield, Thwaite and West Burton.

Just outside are:
Addingham, Gargrave, Ingleton, Leyburn, Middleham, Pateley Bridge, Redmire, Richmond, Settle and Skipton.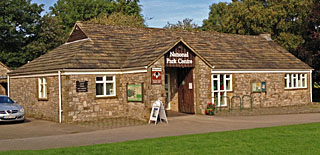 Information
The Yorkshire Dales National Park operates five visitor centres at:
Aysgarth Falls, Grassington, Hawes, Malham and Reeth.


Visiting the National Park by train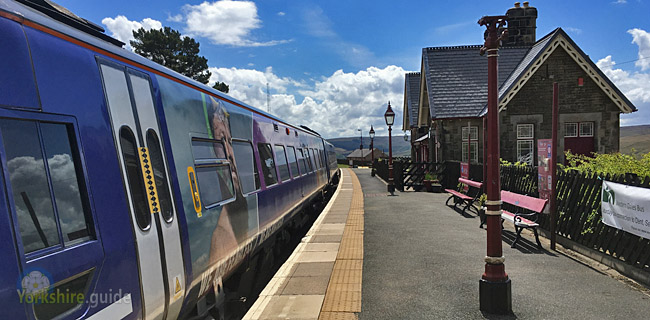 For those wishing to sit back and relax as they see the park or to reach some of the most isolated areas of the park by public transport there is the Leeds-Settle-Carlisle railway line. Northern trains run to stations at Hellifield, Long Preston, Settle, Horton-in-Ribblesdale, Ribblehead, Dent and Garsdale in or at the edge of the park, with stations at Gargrave and Skipton also only a short walk from the National Park. Some of the stations along the line are about a mile away from the communities they serve while from the remote Dent station, Dent village is a surprising 4.5 miles away.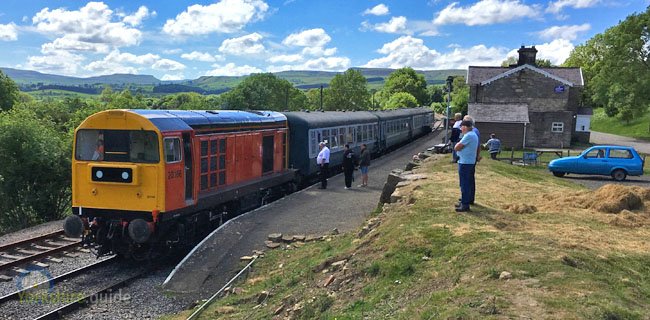 Heritage railway line The Wensleydale Railway also comes within a few metres of the boundary of the park at Redmire, near to the 14th century Bolton Castle. Trains run from Leeming Bar through Bedale and Leyburn to Redmire. The railway briefly opened an extension eastwards to a station at Northallerton West, but the effects of flooding on a bridge at the end of 2015 led to closure of this section of the line and services continue to operate only from Leeming Bar to Redmire in 2019. The railway company is also hoping at a future date to extend the line westward to Aysgarth.


Visiting the National Park by bus

Many bus services run into the park, but planning your journey by checking timetables current for the day of your journey is a must. There are very few services per day on some routes with often no Sunday service while routes to some popular tourist destinations have a better service in summer than in winter and sometimes an enhanced service on Sundays. There are also routes which operate on only one day a week. Bank holidays and the Tour de Yorkshire cycle race also have an effect on bus services. Several different bus operators provide services. They can, and do, change timetables on various dates.

The West Yorkshire transport authority Metro in conjunction with North Yorkshire County Council and the Dales & Bowland Community Interest Company publishes summer and winter timetables (summer timetable for services from March 31) and useful information on travel to the Yorkshire Dales on this

Web page.

Provided by the Dales and Bowland Community Interest Company, this

Website helps to provide information on the different winter and summer services in the Yorkshire Dales and also has a link to the timetable with details of any changes made since its publication

here.


Other websites
---

Yorkshire Dales National Park Yorkshire Dales National Park Authority (YDNPA) website.
---

Nature in the Dales Nature in the Dales website of the Yorkshire Dales Biodiversity Forum, hosted by the YDNPA.
---

The Wensleydale Railway Heritage railway line running to Redmire at the edge of the National Park.
---

Embsay and Bolton Abbey Steam Railway Heritage railway line running just outside the National Park providing a link to National Park beauty spots.
---
Also in Yorkshire.guide
Travel
Places to visit
Home
---