12 Yorkshire seaside towns and villages ...
... and some amazing places in-between
---

Yorkshire has a fascinating range of coastal scenery with miles of glorious sandy beaches, wonderful wildlife, exciting cliff walks, enchanting fishing harbours, lighthouses and historic castle and abbey ruins.
For a seaside holiday, the Yorkshire coast offers a great range of accommodation, from hotels in the larger resorts to a very high standard of guest house accommodation. There are also cottages, caravans, camping sites and holiday centres to choose from.
Yorkshire takes pride in offering traditional seaside holidays with a sense of quality and none of the garishness which has grown around resorts with lesser coastal scenery.
Here we've a pick of a dozen Yorkshire favourites, arranged north to south, but inbetween you'll find many other Yorkshire seaside places waiting to be explored. Three sections of Yorkshire coastline, some 60 miles, are designated
Heritage Coasts
.
Redcar Redcar & Cleveland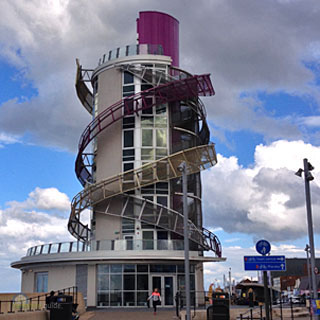 The resort near to the mouth of the River Tees has attracted tourists since the railway from Middlesbrough arrived in the town in the mid 19th-century. Redcar and its adjoining district of Coatham has miles of sandy beach. The town also boasts a racecourse. In recent years the resort has remained popular with day-trippers, but without the level of holiday accommodation to be found in some other Yorkshire resorts. However, a decline in the nearby steelmaking industry has started to see the regeneration of Redcar for its tourist potential with amusements, seaside activities and an attractive new seafront promenade from which a recently-built tower, the Redcar Beacon, can be ascended by lift or stairs, for views across the town.

Find out more about Redcar.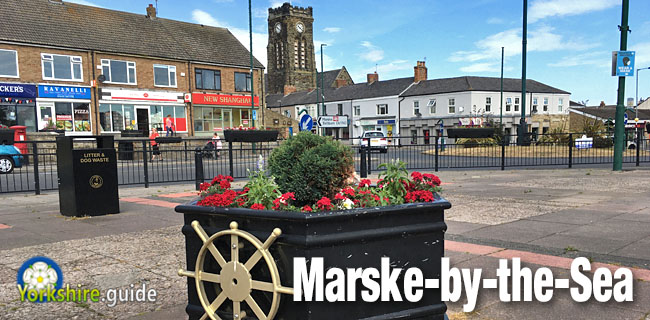 Saltburn-by-the-Sea Redcar & Cleveland
Saltburn-by-the-Sea is the location of Yorkshire's only pier, or, at least, its only surviving one. This crosses the town's sandy beach at the foot of its water-balanced cliff-lift. Reached by railway in the early 1860s, Saltburn was developed to be a Victorian seaside resort with an early railway hotel, houses with sea views and attractive Italian Gardens. It has continued to be developed since then with the addition of a miniature railway in the late 1940s and now has more modern seaside features for those who can tear themselves away from its golden beach which has an international Blue Flag award and Keep Britain Tidy Seaside Award.

Find out more about Saltburn-by-the-Sea.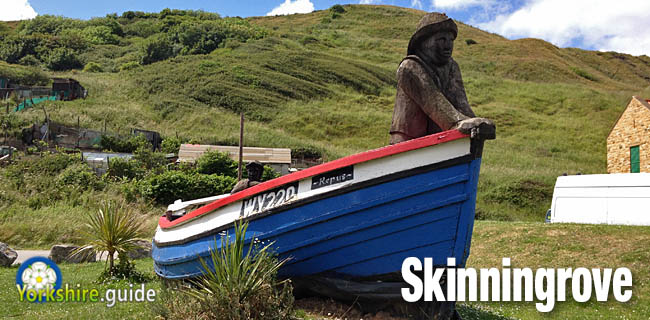 Staithes North Yorkshire
This charming little fishing harbour loved by artists and photographers was for a while the home of famous explorer Captain James Cook. The Heritage Coast village in the North York Moors National Park has beautiful cottages, a sandy beach and pubs.

Find Staithes on the map.


Runswick Bay North Yorkshire
In a sheltered bay with a sandy beach, this once busy fishing village of pristine cottages is now a popular place for summer tourists. Its idyllic pretty setting is part of Yorkshire's northern Heritage Coast and in the North York Moors National Park. The beach at Runswick Bay has a Keep Britain Tidy Seaside Award.

Find out more about Runswick Bay.


Sandsend North Yorkshire
This attractive village fishermen's and holiday cottages is at the end of a two-and-a-half mile sandy beach stretching north-westward from Whitby. The beach at Sandsend has a Keep Britain Tidy Seaside Award.

Find out more about Sandsend.


Whitby North Yorkshire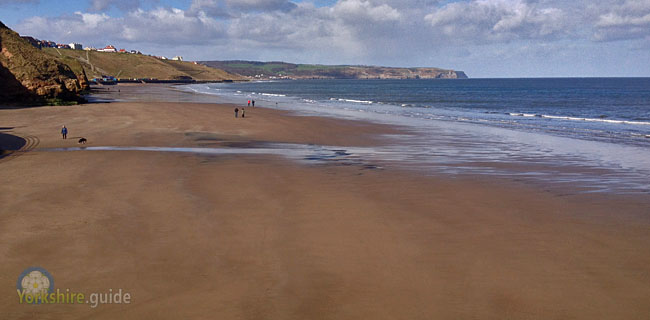 Famous for its association with famous explorer Captain James Cook and Bram Stoker's Dracula, this resort beyond the North York Moors National Park is centred around its charmingly picturesque harbour where the River Esk meets the North Sea. Whitby offers sandy beaches stretching for over two miles to Sandsend, a ruined abbey, good seafood and steam railway journeys. The beach beneath West Cliff has an international Blue Flag award and Keep Britain Tidy Seaside Award.

Find out more about Whitby


Robin Hood's Bay North Yorkshire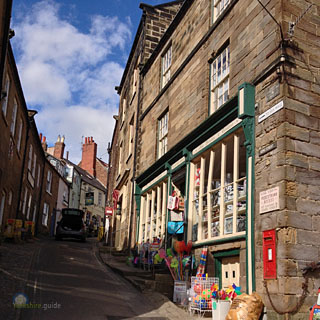 This attractive fishing village, clinging to the cliffside, has a history of smuggling. Robin Hood's Bay has narrow streets and hidden alleyways between its houses and cottages of sandstone with red pantile roofs. The village, within the North York Moors National Park, provides a place to pause on the Cleveland Way walking trail along this section of Heritage Coast and is the finishing point of Alfred Wainwright's famous Coast to Coast 192-mile walk from St Bees in Cumbria. There is a very steep descent through the village to the slipway to the beach and sea from car parks and bus stops at top of the cliff. There are also flatter walking routes along the old railway which used to run between Scarborough and Whitby. The beach at Robin Hood's Bay has a Keep Britain Tidy Seaside Award.

Find out more about Robin Hood's Bay.


Scarborough North Yorkshire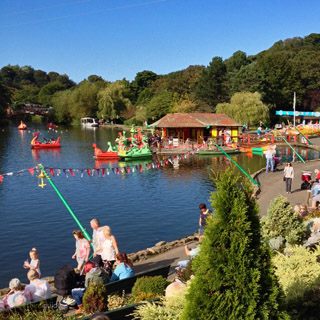 Offering the best of the British seaside, Scaborough has two sandy bays, a castle on its headland, a harbour, parks, a seaside railway and a town full of quality seaside entertainment. Scarborough is easily reached by express trains, bus services and roads from other parts of Yorkshire and the North York Moors National Park is on its doorstep. The beach at North Bay has a Keep Britain Tidy Seaside Award, however this does not apply to the resort's South Bay.

Find out more about Scarborough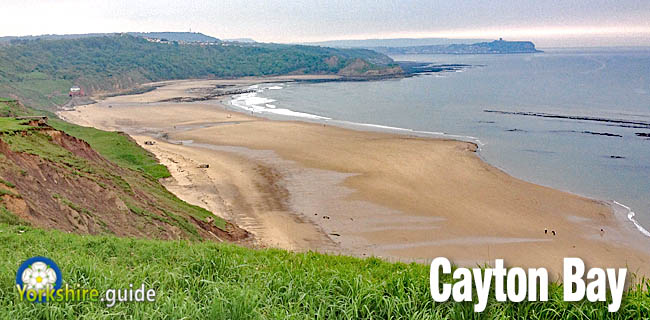 The beach at Cayton Bay has a Keep Britain Tidy Seaside Award.
Filey North Yorkshire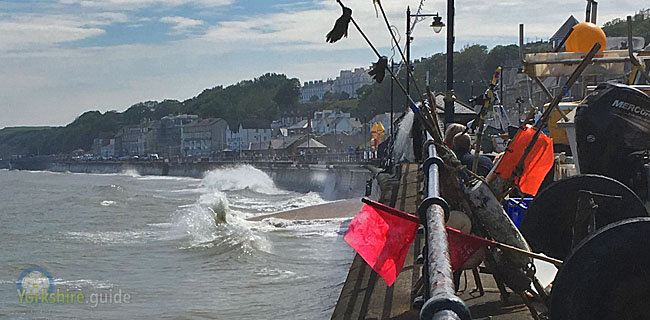 A quiet and peaceful family resort with a fine expanse of beach and offering plenty of holiday accommodation. Music adds to its friendly atmosphere when musicians are at the Filey Folk Festival (May 3 to 6, 2019). Filey also offers a warm welcome to walkers and cyclists. It is at one end of the Cleveland Way long-distance walking trail starting in Helmsley, going around the edge of the North York Moors and then along the coastal path to reach Filey. It is also the finish of the Great Yorkshire Bike Ride, an annual 70-mile charity event (June 15, 2019) which starts in Wetherby. Extending from the northern point of the beach is the long rocky headland of Filey Brigg, at one time the site of a Roman signal station. The Brigg is the venue of the annual Filey Fishing Festival held at the start of September. The resort has a station on the line between Scarborough and Bridlington. The beach at Filey has a Keep Britain Tidy Seaside Award and won The Sunday Times 2018 Beach of the Year award.

Find out more about Filey.


Flamborough East Riding of Yorkshire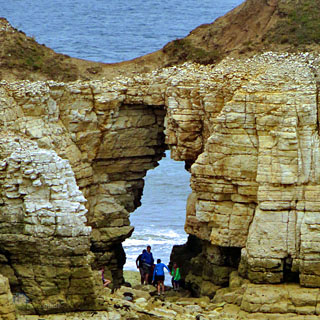 Flamborough is the village at the centre of one of the Yorkshire Heritage Coasts featuring a headland of spectacular chalk cliffs, small sandy coves and one of the most important colonies of seabirds in Europe. The coastline features stacks, caves and coves and has an active and historic lighthouse. The headland has an island-like character being divided from the rest of Yorkshire by Danes Dyke, an ancient bank and ditch earthwork. In 1779, the Battle of Flamborough Head was fought off the coast between ships commanded by the United States of America against Royal Navy convoy escort vessels during the American War of Independence. Beaches at Danes Dyke and South Landing have Keep Britain Tidy Seaside Awards.

Find out more about Flamborough.


Bridlington East Riding of Yorkshire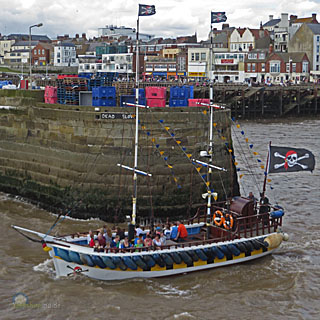 Bridlington is a popular seaside resort town with a busy small harbour, miles of sandy beaches, fairground and amusement attractions and a top entertainment venue. Town centre shops are very close to the seafront while a little further inland near Bridlington's historic priory church is its old town, recently made famous as the Walmington-on-Sea in the film version of Dad's Army. Beaches at North Bay, South Bay, Wilsthorpe and Fraisthorpe all have Keep Britain Tidy Seaside Awards.

Find out more about Bridlington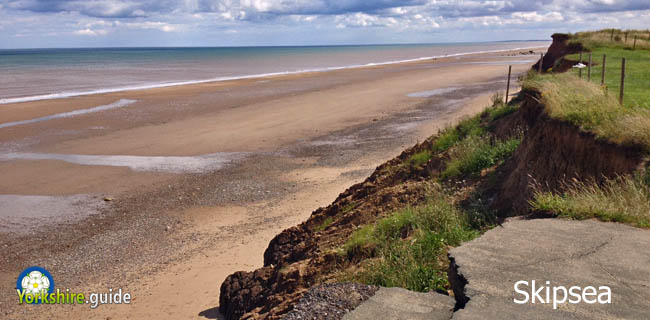 Hornsea East Riding of Yorkshire
With golden beaches, Hornsea offers small town friendliness and the usual seaside facilities without the hustle and bustle of the bigger resorts. The Trans-Pennine Trail coast to coast cycle route runs from Southport on the west coast to finish on the South Promenade at Hornsea. Hornsea also boasts Yorkshire's largest freshwater lake. Hornsea Mere is a location for bird-watching, fishing and the base for Hornsea Sailing Club. The beach has a Keep Britain Tidy Seaside Award.

Find out more about Hornsea


Withernsea East Riding of Yorkshire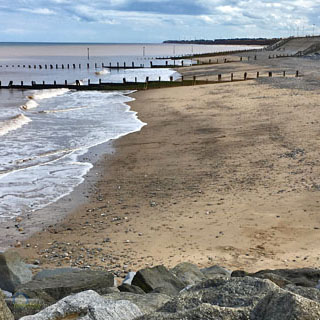 Withernsea is a resort at the heart of the Holderness area of the East Riding of Yorkshire with a sandy beach, promenade, amusement arcades and other holiday activities and an unusual inland lighthouse. Today the lighthouse is a museum of local history and about the RNLI and award-winning actress Kay Kendall, who was born close by and died of leukaemia in 1959, aged 32. The pier towers on the seafront are a reminder of a former heyday of Withernsea when Victorians, then able to travel from Hull by train, were able to visit its pier. A series of collisions by boats saw the pier gradually destroyed in the 1880s and 1890s. Today long golden beaches are an attraction for many who spend caravan holidays along this section of the coast. The town is also about 10 miles north of the Spurn Heritage Coast. The beach has a Keep Britain Tidy Seaside Award.

Find out more about Withernsea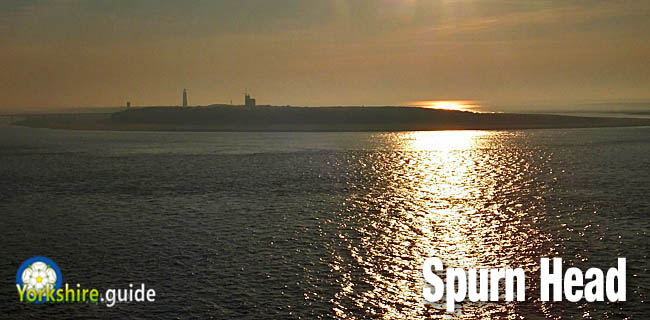 Also in Yorkshire.guide
Home
Travel
Heritage Coast
Places to visit
---