Harrogate
North Yorkshire
Harrogate is a spa town which has become well-known as a tourist and conference destination.

With its residential districts and nearby villages it is the largest town in the county of North Yorkshire. It is also the administrative centre of one of the county's seven large district authorities, the Harrogate Borough, which includes a large rural area, the city of Ripon and towns including Knaresborough and Pateley Bridge.

Harrogate is 3 miles south-west of Knaresborough, 10 miles south of Ripon and 11 miles south-east of Pateley Bridge. It is also 8 miles north-west of Wetherby and 9 miles north-east of Otley in West Yorkshire, 13 miles north of Leeds and 19 miles west-north-west of York.

Harrogate still has the air of being the resort loved by the Georgians, Victorians and Edwardians who came to sample its well and spring waters which were believed to provide cures for illnesses and to provide well-being. While its spa trade declined long ago, the town still benefits from a sometimes milder climate than other parts of Yorkshire, has some very attractive gardens and has modernised to become an important centre for conferences and exhibitions.

The town's great growth from being two small hamlets in the Royal Forest of Knaresborough came from the discovery of the supposed curing properties of its water sources, starting with its Tewit Well in 1571 and subsequently many other springs. It later led to a large number of spa buildings being created through the Georgian and Victorian periods to cater for a wealthy elite who would come to take the waters and promenade in the buildings and gardens.

Valley Gardens is a 17-acre park stretching from the western edge of the centre of Harrogate towards the Pinewoods woodlands. The gardens were created from the late 1880s for Victorian tourists and residents around the wells of what was previously Bogs Field. Here there were 36 wells and springs providing water with various compositions of minerals and chemicals. A Magnesia well providing a mild sulphur water was particularly popular for a range of ailments, leading to a pump room being built in 1858 to dispense it and a larger pump room, now a cafe, being built in 1895.

Underground pipes connected the wells to The Royal Pump Room (see below), which is situated opposite the gateway to the Valley Gardens.

The Royal Baths were another Victorian attraction, opened in 1897 on the site of the earlier Montpellier baths. The large complex provided a range of hydrotherapy treatments and were extremely popular until the spa trade fell into decline in the 1940s and 50s with the baths eventually closing in 1969. Only the Turkish Baths remain open today with other parts of the complex having being turned into bars, a restaurant and tourist information centre.

Just outside the town centre is the location of Yorkshire and England's foremost agricultural show the Great Yorkshire Show, which is organised by the Yorkshire Agricultural Society in mid-July each year (July 11-13, 2017). Spring and Autumn flower shows are also held at the showground.

The world's first cycling touring club was formed in Harrogate. A meeting of cyclists on August 5, 1878 founded the Bicycle Touring Club, which became the Cyclists' Touring Club in 1883. Harrogate was fittingly the finishing post of the First Stage of the Tour de France Grand Depart in 2014 and the town also played a starring role when Yorkshire hosted the Union Cycliste Internationale (UCI) Road World Championships in September 2019.

Town features

Harrogate's compact town centre features wide shopping streets, some of them pedestrianised, and smart shops, including jewellers and fashion boutiques, a range of quality products from local traders together with a number of charity shops. The town's Italianate Victoria Shopping Centre, on the site of the town's first covered market, opened in 1992. It contains several big name stores and is linked by a footbridge to the railway station and multi-storey car park.

---

Harrogate post office is in Cambridge Road. There are also sub-post offices in districts of the town.

---

The town has bank and building society branches.

---

The town and its districts have several pharmacies.

---

Harrogate spoils you for choice with places to eat. While it's possibly unfair to single out names from such a wide selection, Betty's tea rooms seem to have become nearly as high-rated an attraction in Harrogate as its spa waters used to be. But there are plenty of other places to relax over food, from famous name restaurants to cosy bar-bistros and pavement cafes. Fine dining is available in a vast range of cuisines.

---

The traditional street-corner pub has become less of a common sight in Harrogate than in some other Yorkshire towns, perhaps down to the number of large hotels and places to dine, but look around and there are some good quality pubs to be found. Hales Bar in Crescent Road lays claim to being Harrogate's oldest pub, dating from around 1766, while features of the former Winter Gardens of The Royal Baths are now preserved as a Wetherspoon pub.

---

Harrogate Library is in Victoria Avenue.

---

For museums and galleries see below.

---

For theatre information see below.

---

Harrogate Tourist Information Centre is at The Royal Baths, Crescent Road.

---

Holiday facilities in Harrogate: hotels, guest houses.

---

There are several schools around Harrogate and its districts.

---

Places of worship: Anglican, Catholic, Methodist, Baptist, United Reformed, Hebrew, Buddhist.

---

The Stray is 200 acres of open grassland which wraps around the south and eastern side of Harrogate town centre and provides a popular spot for picknicking, outdoor games, football matches and occasional fairs and events.

Valley Gardens, in addition to the restored well heads and pump rooms mentioned earlier, includes a sun pavilion and colonnades, a bandstand, shrub and flower beds and other park activities including a boating lake, paddling pool and children's playground and skate park. The gardens are supported by a friends group.

Website

The Royal Horticultural Society's Garden at Harlow Carr is just outside the town. See Places to Visit below for more details.

---
Entertainment
Harrogate Theatre and Studio Theatre
Oxford Street
The Harrogate Theatre is a refurbished late-Victorian theatre, orginally built in 1900. The main performance space has audience seating for 500 and has a varied programme of theatre, music, dance and comedy and is also the venue for musicals and plays by amateur societies. The Studio Theatre offers a 70-seat flexible performance space on the third floor of the Harrogate Theatre.
For further details see the

Harrogate Theatres website.

---
The Royal Hall
Ripon Road
The splendid 1,000-seat Royal Hall is an Edwardian performance hall and theatre at the edge of the town centre. It was orginally opened in 1903 as the Kursaal, the German name being abandoned in the First World War. It was given an £8m restoration between 2006 and 2008. It is regular venue for live music events.
More information at

Harrogate Theatres website.

---
Harrogate International Centre
Kings Road
The Harrogate International Centre, next to The Royal Hall, is a huge conference venue with 2,000-seat auditorium and more than 13,000 square metres of event space. It hosts shows by big name musical entertainers as well as major national and international conferences. The centre was the venue of the Eurovision Song Contest in 1982.
Further details at the

Harrogate International Centre website.

---
Sport
Harrogate Town AFC
Harrogate Town AFC play at the CNG Stadium, Wetherby Road.


Harrogate Town AFC official website

---
Harrogate RUFC
Harrogate RUFC play rugby union at Rudding Lane.

---
Harrogate Cricket Club
The club play at The County Cricket Ground, St George's Road.

---
Museums and galleries
Royal Pump Room Museum
Crown Place
Harrogate's history as a spa town is shown at the Royal Pump Room Museum. The building was originally created as one of the town's spa buildings over its old sulphur well in 1842 and, after a period as a cafe, was converted to a museum in 1953. In late 2016, the museum also has temporary exhibitions with fashion and costume themes with a Men of Fashion exhibition until early October and from October until the end of the year film and TV costumes from screen portrayals of the writings of Jane Austen and Charlotte Brontë.
Further information at the

Harrogate Borough Council - Royal Pump Room Museum web pages.

---
Mercer Art Gallery
Swan Road
The building was originally opened in 1806 and is Harrogate's oldest spa building. It was then known as the Promenade Rooms, where those coming to Harrogate could go to socialise after taking the waters. It has also had periods of use as a library and reading room, a theatre, town hall and council offices, before becoming a gallery for Harrogate's fine art in 1991.
Information at the

Harrogate Borough Council - Mercer Art Gallery web pages.

---
Places to visit
Royal Horticultural Society Garden Harlow Carr
Crag Lane, Beckwithshaw
The Royal Horticultural Society's Garden at Harlow Carr, nearly 2 miles to the west-south-west of Harrogate town centre, covers more than 27 heactares (68 acres) and shows a wide variety of growing landscapes from woodland to wildflower meadows. Gardens include a kitchen garden, a streamside garden running the length of Harlow Carr and a hedgehog-friendly garden, while a glass Alpine House displays a vast collections of alpines. Harlow Carr also holds a host of events, including autumn plant and food festivals and a real ale and cider festival.
Find out more at the

RHS - Harlow Carr website.

---
Ripley Castle
Ripley Castle Ripley
Situated four miles north-north-west of Harrogate town cente, Ripley Castle has been the home of one family for more than 700 years. It is set in beautiful gardens, grounds which include a deer park and the picturesque estate village of Ripley, remodelled in the mid 19th century. Ripley Castle has a fascinating history involving Kings and Queens, the Gunpowder Plot and Oliver Cromwell. It offers daily guided tours from April to October, has a gift shop and tearooom, offers a wedding and meeting venue and a variety of outdoor activities and events.

For further details see the

Ripley Castle website.
Locate on map:

Ripley Castle
---
Spofforth Castle
Spofforth Castle
off Castle Street, Spofforth
Spofforth Castle is the ruins of a fortified manor house about 6 miles by the A661 road to the south-west of Harrogate. William the Conqueror granted Spofforth to William de Percy, a favourite who was granted many estates in Yorkshire. A manor was built and extended through the 13th century by later generations of the Percy family. It is reputed that the Magna Carta was drawn up there in 1215. Although the Percy family made Alnwick Castle, in Northumberland, their base from early in the 14th century, Spofforth remained within the family and underwent some remodelling in the early to mid 15th century. In the War of the Roses, the Percy family supported The House of Lancaster and the castle was wrecked by Yorkists who had gained victory in the 1461 Battle of Towton in which Henry Percy, Earl of Northumberland was killed. There was some 16th century restoration, but it was reduced to ruins around the time of the Civil War. The site is free to enter and managed by English Heritage.


---
Knaresborough Castle
Knaresborough Castle and Courthouse Museum
Castle Yard, Knaresborough
In the town of Knaresbough, about 3 miles from Harrogate, Knaresborough Castle is a ruined Royal Castle on a rocky outcrop with a stunning view over the River Nidd. The castle has a rich history. Originally dating from around 1100, Kings Henry I, John, Edward I and Edward II all oversaw building and improvement works to their northern fortress, while Queen Philippa, wife of Edward III, made it a summer residence in the 14th century. The castle was taken by Parliamentarians after a siege in the Civil War in 1644 and four years later orders from Parliament to destroy Royalist castles saw it dismantled. The museum reveals Knaresborough's role in the Civil War and other stories in the town's history and includes an original Tudor courtroom. The castle ruins remain part of the Duchy of Lancaster, but, together with the museum, is maintained by Harrogate Borough Council.


---
Newby Hall & Gardens
Skelton on Ure
Newby Hall is a family home eight miles north-north-east of Harrogate (about 15 miles by road). It is a fine example of an Adam House, a style practised by the Scottish Adam brothers in the 18th century. Originally built in the late 17th century by Sir Christopher Wren, it was enlarged by John Carr and later modified by Robert Adam. The house has stunning 18th century interior decoration, a dolls house exhibition, Gyles Brandreth's teddy bear collection, a miniature railway and beautiful gardens with a relatively modern design dating from the early 1920s. In July, the hall is a venue for a historic vehicle rally and fireworks championships.
For more information see the

Newby Hall & Gardens website.

---
Harewood House
Harewood
Harewood House Harewood House, an 18th century stately country home, is at Harewood, about 7 miles south of Harrogate. It opens to visitors during a season stretching from March to October. Harewood hosts a variety of exhibitions and events as well as guided tours of the house. The house has been used to film scenes for the ITV series "Victoria" in which it has represented Buckingham Palace and Kensington Palace. Harewood has extensive grounds including more than 100 acres of gardens, parkland planned by Lancelot 'Capability' Brown, a farm experience, bird garden, deer park and the ruins of the 13th century Harewood Castle. The grounds also include the purpose-built village set of ITV's "Emmerdale", although this is not open to visitors except on selected dates on pre-booked tours via partners of the TV company.
More information can be found at the

Harewood website.
Locate on map:

Harewood House
---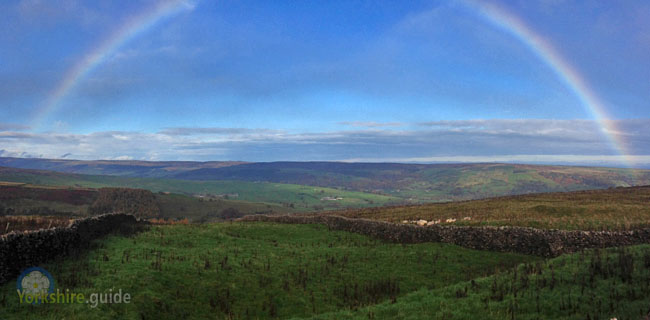 Nidderdale Area of Outstanding Natural Beauty
Extending across an area of 232 square miles (603 sq km), the Nidderdale Area of Outstanding Beauty starts just 4 miles from Harrogate. The area has a beautiful and varied landscape including rolling heather-topped moorland, stone-walled agricultural fields and farms, small villages, lake-like reservoirs and some outstanding geological features, the best known of which are Brimham Rocks. For more details see our Nidderdale page.

---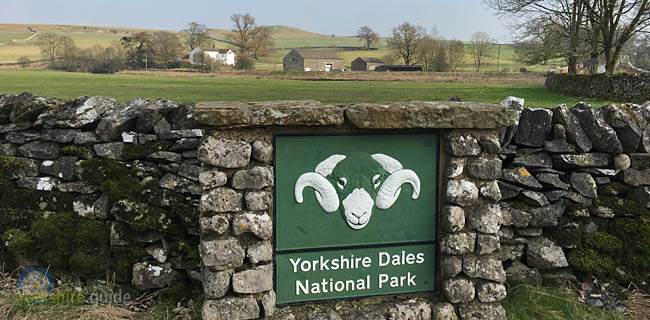 Yorkshire Dales National Park
After going through the Nidderdale Area of Outstanding Natural Beauty, the 841 square miles (2,179 square kilometers) of the Yorkshire Dales National Park starts just 12 miles west of Harrogate. Find out more on our Yorkshire Dales National Park page.

---
Travel
Harrogate
Station Parade
Northern services operate from Harrogate eastwards towards Knaresborough and York and southwards towards Leeds. Trains serve intermediate stations including Starbeck, about 1.5 miles east of Harrogate town centre, Hornbeam Park, about a mile south of the town centre, and Pannal, about two miles south of the town centre. Additionally LNER run an early morning service to London King's Cross, returning in the evening.
The station is managed by Northern. Operators running services are Northern and LNER.



Northern - Harrogate Station and departure information at Northern website.

---
Harrogate Bus Station
Station Parade
Harrogate bus station is near to the railway station and offers bus services to all neighbouring towns, including Knaresborough, Ilkley, Otley, Pateley Bridge, Wetherby, Ripon, Starbeck, to Leeds-Bradford Airport and to Bradford and Leeds. While regular services operate to most areas during the day, a much-reduced service operates to some areas after teatime, particularly on Sundays and Bank Holidays.

---
Road travel
Harrogate is 7.5 miles from the

A1(M)

providing onward road connections to the North and South of Yorkshire. The

A61

Leeds-Harrogate-Ripon-Thirsk and

A59

York-Harrogate-Skipton-Preston-Liverpool routes cross at Harrogate. The

A661

leads from Harrogate to Wetherby. Harrogate has on-street pay and display parking and a large multi-storey car park linked by footbridge to its station and Victoria Shopping Centre.
---
The HS2 effect
Our new Yorkshire.guide study has assessed cities and major towns throughout the Yorkshire region for the benefits HS2 will bring in travelling from Yorkshire to London when the proposed section between the Midlands and Leeds is complete in 2033. The line is also planned to link to existing lines to Sheffield and York. Each city or town has been given one of three simple ratings based on convenience and time saved over existing services.


White elephant:
Takes the same time or longer than an existing service* or saves less than 10 minutes while now causing a change of trains. (* or HS2 completed to Manchester).

Coffee break:
Saves 10 to 45 minutes. Time for a cup of coffee at your destination rather than on the train?

City slicker:
Saves 45 minutes or more on existing service getting you to that all-important London meeting in good time.
We've been fairly generous to HS2 in making the assessment. Where a change of trains is now needed, we have assumed that you are on the fastest train to the station where you change to HS2, that it arrives on time, you have 10 minutes to change to the HS2 platform and an HS2 train is waiting to depart at that time. No assessment is made of additional journey costs possible in connecting to or travelling on HS2. The assessment is made on journeys from Yorkshire to London with again no account taken of any convenience or inconvenience in arrival at London Euston rather than London King's Cross station. Further details about our study can be found on The HS2 Effect page.
Harrogate
While Harrogate does have some services through to London at present, catching the commuter train into Leeds and walking to a ready to depart train at the HS2 platform would potentially save 38 to 42 minutes off current best journey times.


Emergency services
North Yorkshire Police

North Yorkshire Police website.

North Yorkshire Fire and Rescue Service

North Yorkshire Fire and Rescue Service website.

Yorkshire Ambulance Service NHS Trust

Yorkshire Ambulance Service NHS Trust website.


Local government
District authority
Harrogate Borough Council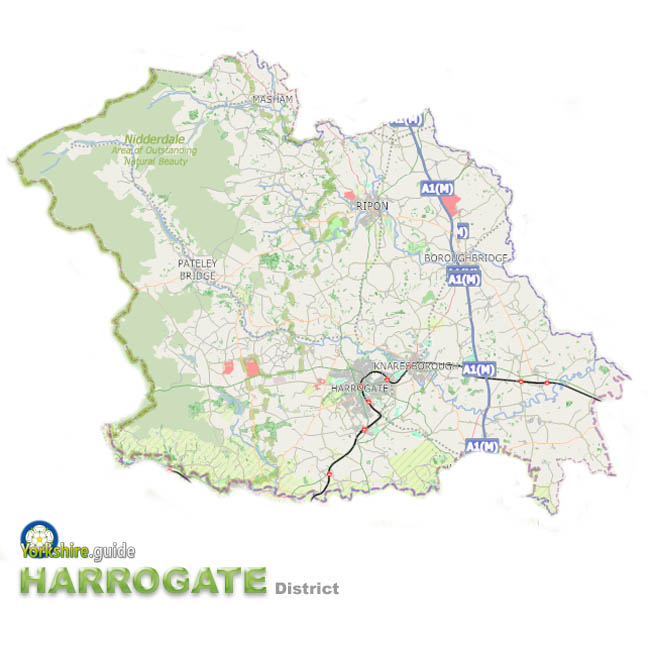 Harrogate is the administrative centre of Harrogate Borough, one of the large district authorities of the North Yorkshire County Council area and the most populous of its seven districts.

The borough also includes many other villages, towns including Knaresborough, Boroughbridge and Pateley Bridge and the city of Ripon.

Within the borough are 76 town and civil parish councils and 11 parish meetings.

The borough council was made up of 54 elected members with one-third elected in each year out of four, but from 2018 there are now 40 elected members elected each four years.


The political composition after the May 2018 election was:
40 members
---
County authority
North Yorkshire County Council
Includes the Harrogate borough and six other non-unitary districts of North Yorkshire.

---
Police and Crime Commissioner
Police, Fire and Crime Commissioner North Yorkshire
Covers the county of North Yorkshire and

City of York.

Police, Fire and Crime Commissioner North Yorkshire website.

---
Fire Authority
The North Yorkshire Fire and Rescue Service was previously governed by the North Yorkshire Combined Fire Authority made up of elected members from across the broad areas of North Yorkshire and City of York councils which it serves. Following a ministerial announcement in June 2018 the governance of the fire service was transferred to the Police and Crime Commissioner for North Yorkshire from 15 November 2018.
Further information at the

North Yorkshire Fire and Rescue Service website.


Police and Crime Commissioner North Yorkshire website.

---
National government region
Yorkshire and the Humber

---
Ceremonial county
North Yorkshire

---
Historic
1884-1974: Municipal borough within the West Riding of Yorkshire.
1974-present: Within Harrogate borough in the county of North Yorkshire.

---
Also in Yorkshire.guide

In Harrogate district: Boroughbridge Knaresborough Pateley Bridge Ripon



Home

Travel

Places to visit
---